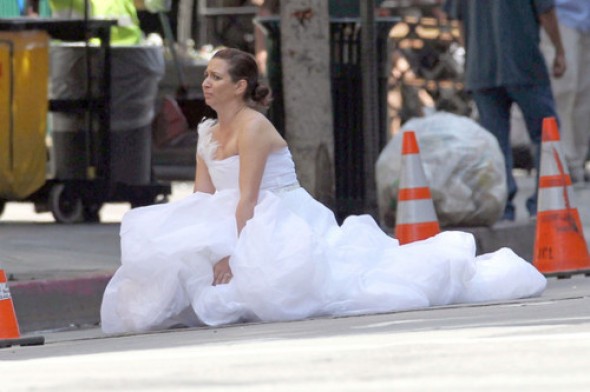 I tackled the thing I was most dreading this past weekend. I'm not sure if I'm an anomaly, but based on my encyclopedic knowledge of Say Yes to the Dress, I would say that my dread regarding dress shopping was a bit out the ordinary. Starting Friday, I went to four separate stores in search of dress that didn't make me look like a whale, or an "albino parade float (in the words of HB)."
So, why was I dreading this, and was my fear well founded? I dreaded wedding dress shopping because the thought of stuffing my muffy tops into my finest spanx, a strapless bra, and bridesmaid gold heels, then standing vulnerably in a small dressing room with a perfect stranger, fighting off the back-sweats whille sausaging myself into sample sizes, followed by parading out in an unzipped, 50 pound dress to show my closest family (with a sprinkling of by-standing strangers) gave me the anxiety poos. Ironically, those of us most likely to be flashing said muffy tops and strapless bra backs (always sexy) because we don't fit in the sample sizes are likely the same women that are least excited about the whole experience. On top of it all, I am neither a "naked" person, nor an attention whore, so yes, I was terrified. And this fear was well founded.
I started at J Crew Friday evening, moved on to Nordstrom and a designer/custom place on Saturday, and then tried out a mainly-bridesmaid store on Sunday. Each day and appointment included a different group of people I trusted. My dear friend and coworker accompanied me to J Crew, where I was actually smiling and quite comfortable because a) my sales lady let me stay in the dressing room alone to get in and out of dresses, and b) the bridal area was a pair of dressing rooms behind a curtain, shielded from the rest of the store and stranger eyes. These two things went a long way in helping me stay comfortable and non-sweaty. I can't reveal too much here, in this public place, but I can say that I think I found my dress at J Crew. Coincidence?
Saturday started at Nordstrom with my dad and step-mom, which would have been fine, except for the group of 4 cougars literally circled around the only full length mirror, who, uninvited, offered feedback on the dresses I was trying. Nordstrom was the site of The Breakdown. My consultant tried (yes, she was in there, viewing me in my full nude-spanx glory) four dresses in a row that would not fit over my ample derriere, and finally managed to shoe horn me into a 5th, which was literally cutting off circulation to my legs. I walked out onto the viewing platform (akin to a cattle auction) and broke down in tears.
I have not had a body-image related breakdown in a long time, but I just couldn't deal with the ridiculous fact that me, a pretty averaged sized person, was unable to try on 4 very expensive dresses I was considering purchasing. This only got worse at the next stop, where my mom and another good friend joined the crowd. The local designer shop had gowns with average price of 3-4 thousand dollars, and approximately 0 of the styles I liked would even fit over my hips.
Listen: I know I'm not in the best shape of my life. And I know that I am tall, curvy, and "thick" lady. But I am smaller than the average American. And I am just NOT THAT BIG. And even if I was bigger, what the fuck kind of business model is it to only carry sample sizes that 1/4 (maybe) of the population can zip up? And what person in their right mind would pay 3000 bucks for a gown that may or may not look good on them? When my salesperson offered to "paper doll" me into the gown (which I think meant that she would hang it from my neck to give me an idea of how it would look on me), I was over it.
The whole experience was exhausting, disheartening, and surprisingly emotional. It was also enlightening, though, and made me want to get even further away from what I will call (and I'm probably not the first) the wedding industrial complex. It's built to gouge you at your most vulnerable, to make you feel insecure and like you NEED to buy the triple-priced shape-wear. Or the lipo.
You always imagine your wedding in the future, but then one day you get engaged and all the "one days" suddenly become urgent and "need nows." "One day I won't have this roll of back fat" becomes, "THIS BACK FAT NEEDS TO GO NOW!" I'm not going to lie and say that I won't work my ass off to try to burn off that back fat, but I also won't be paying someone 3000 dollars for the pleasure of wearing their bleached prom dresses. Lady, maybe if you had provided an inclusive experience that allowed someone of my "stature" to feel beautiful, I'd feel inclined to give you my business. But as it stands, I won't be supporting your current business model. And I think my lower leg circulation will thank me.